Create and solve jigsaws ... anywhere... anytime
Do you like solving jigsaws but have exhausted all the good jigsaws out there?
Are you struggling to find quality jigsaws featuring good pictures at sensible prices?
Do you wish you could create your own jigsaws from your own photos?
Do you know that solving jigsaw puzzles can be therapeutic?
What is the DigiSaw Puzzles app?
The DigiSaw Puzzles app is a mobile app developed by Today's New Idea that lets you turn any image in your photo library into a jigsaw puzzle that you can solve on your iPhone or iPad.
Like many during lockdown we turned to solving jigsaws as a way of passing the time but quickly found that we were struggling to find quality puzzles with illustrations or photos we wanted to solve. Several puzzles we bought had questionable piece quality and often the colour reproduction of the puzzle differed greatly from the picture on the box which was deeply frustrating. Solving jigsaws should not be such a frustrating experience.
Borne out of frustration with the jigsaws available we developed this app so that we could have an endless supply of jigsaws featuring images that we love. While we love solving puzzles featuring photos we have taken of snow scenes, highland lochs and various holiday destinations solving puzzles that feature some of the most iconic photos of all time takes this to another level.
For example, solving puzzles based on some of Nasa's best photos is literally out of this world. Apollo 17's view of Earth, the pillars of creation and the first footprint on the moon are just some of those you can import to your photo library and turn into a jigsaw using the DigiSaw app. Many organisations such as Nasa permit individuals to use photos and other media for their own enjoyment without requiring any licence or attribution providing they are not used for commercial purposes.
Not only can you create and solve your own unique puzzles you can also export your puzzle via email or messages at any stage... ever wanted one of those images of a jigsaw with one piece missing?
Why invest your time in solving jigsaw puzzles?
Solving jigsaw puzzles is not just a fun way of passing the time. In addition to the enjoyment and sense of satisfaction you get from solving the puzzle it is widely accepted that solving jigsaws can be therapeutic offering a range of benefits including: improved problem solving skills, improved attention span, encourages left & right brain use, improved memory, improved attention span and meditative benefits.
Using the DigiSaw Puzzles app
Creating and solving jigsaw puzzles on your device should be an easy and enjoyable experience. To this end we have designed the DigiSaw user interface to be intuitive and easy to use. Follow these simple steps.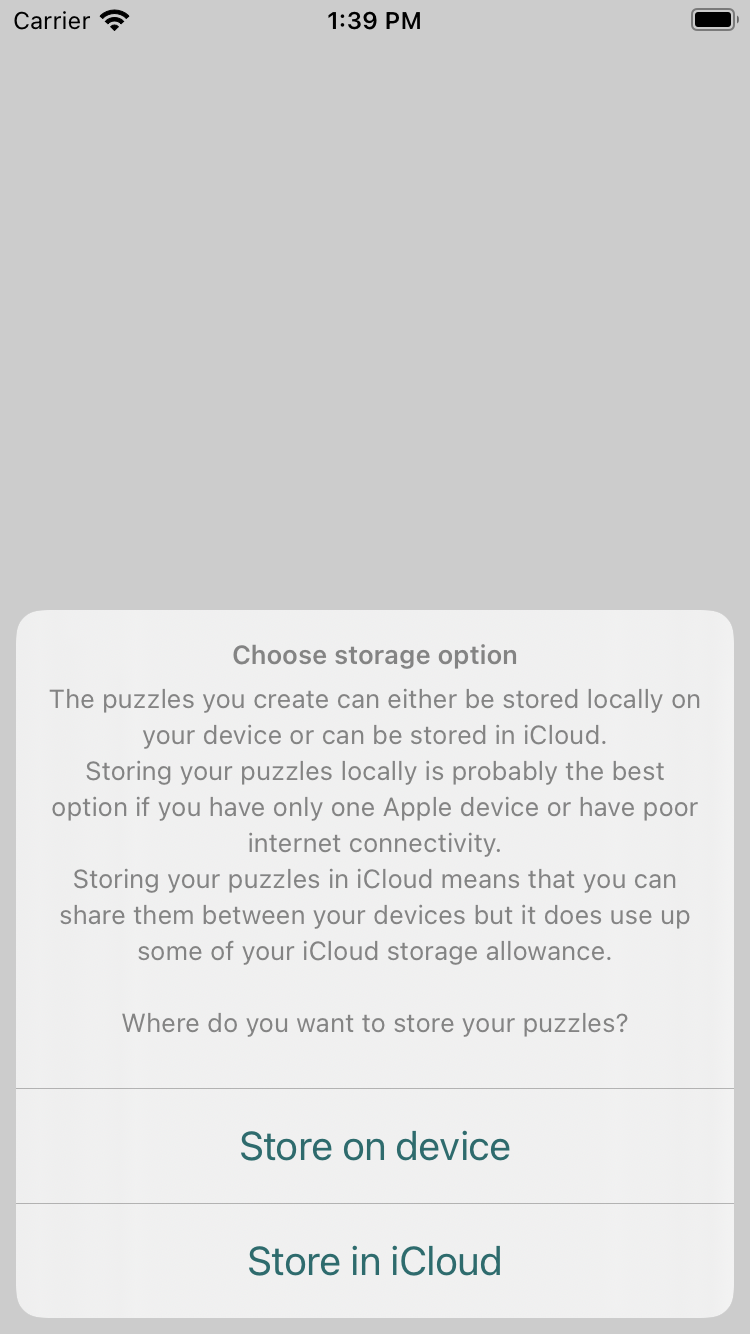 Before you can start creating any puzzles you must choose where you want the puzzles to be stored.
You can either store your puzzles locally on your device or you can store them in iCloud.
Storing your puzzles locally on your device is probably the best option if you have only one device or if you have a poor or limited internet connection.
Storing your puzzles iCloud allows you to share them between your devices. This means you can create and start a puzzle at home then continue solving it on your commute to work.
Puzzles stored in iCloud are automatically synchronised to your other devices so you can easily pick up where you left off.
Note: Puzzles stored in iCloud are stored in your private iCloud area and cannot be accessed by anyone else.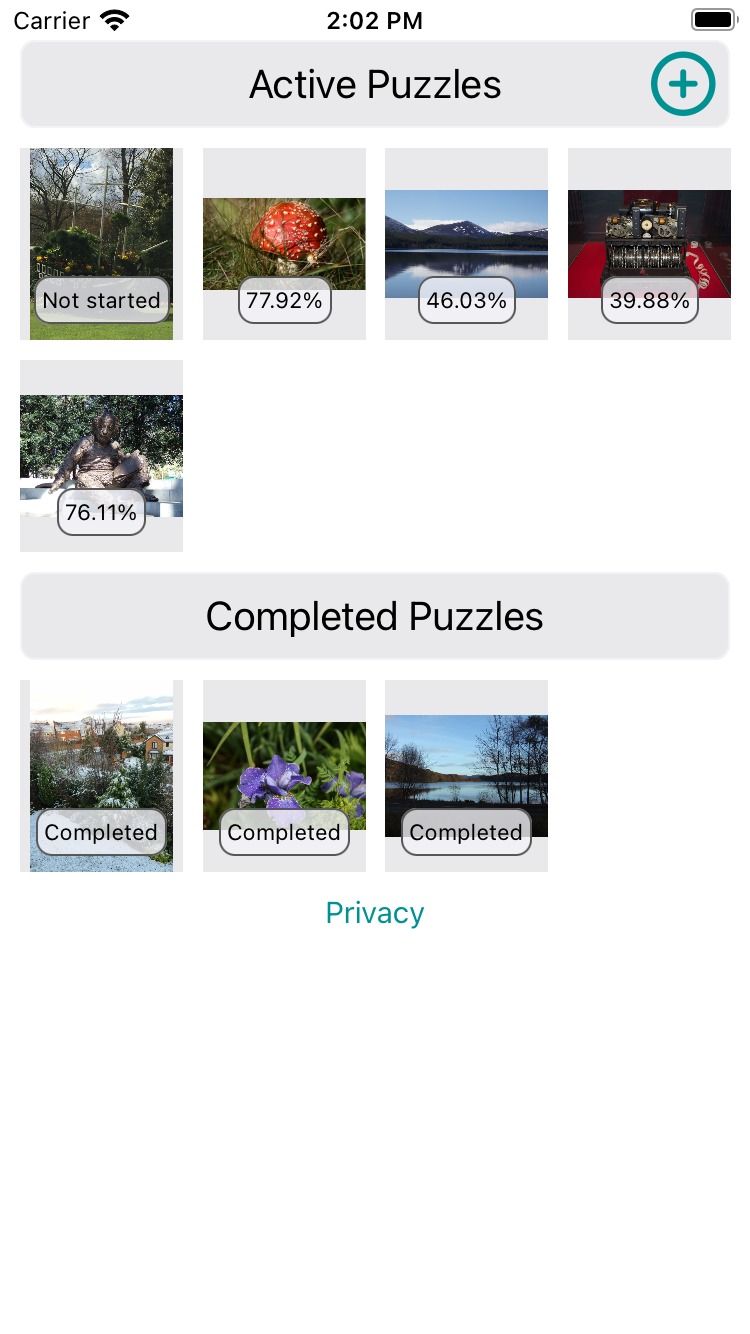 The home view serves as your puzzle library.
There are two categories of puzzle 'Active puzzles' and 'Completed puzzles'.
Here you can see:
The '⊕' button which lets you choose the photo you want to use to create a new puzzle
The puzzles you have created
Your progress solving each puzzle
The puzzles you have ccompleted
The 'Privacy' button which shows some privacy information and allows you to delete all your puzzles.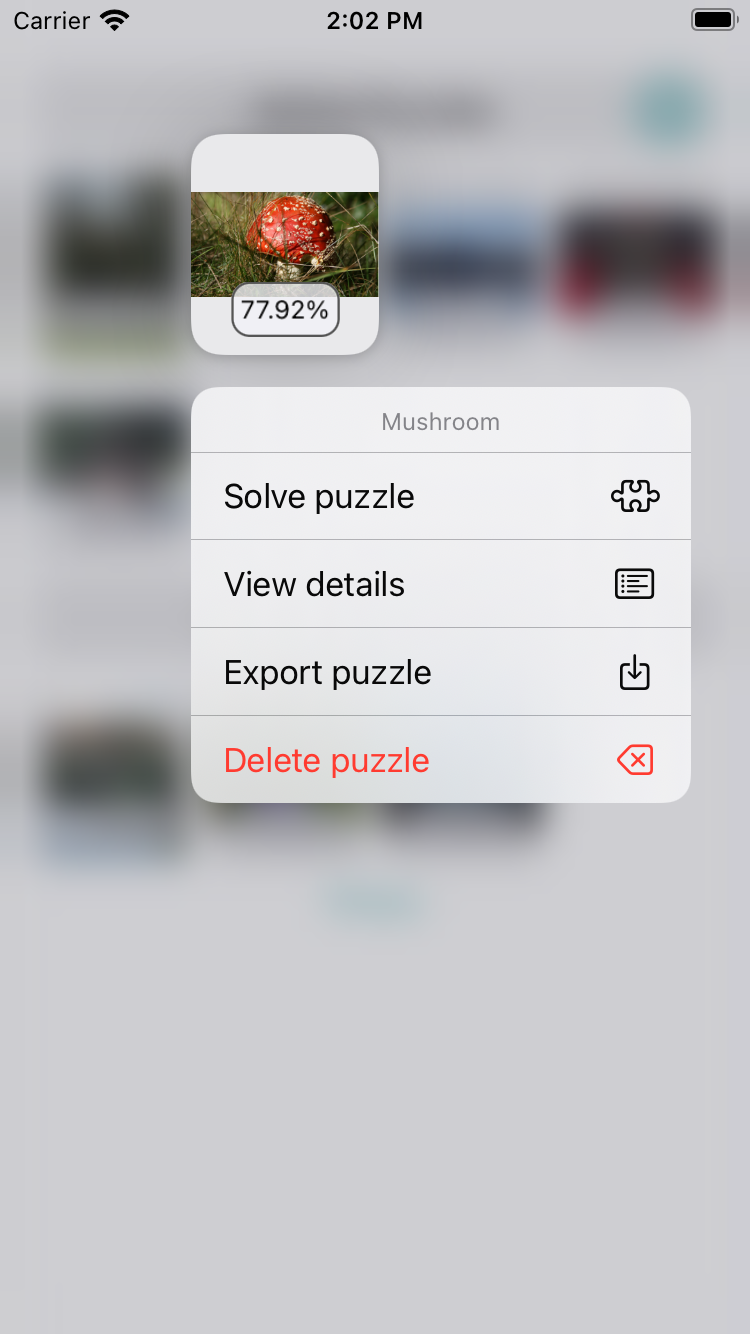 Tap and hold a puzzle to show an action menu.
The menu you see will vary slightly depending on whether you tapped an 'Active' puzzle or a 'Completed' puzzle.
Active menu:
Solve puzzle - tap this to start solving the puzzle
View details - tap this you view a detailed analysis of your progress for this puzzle
Export puzzle - tap this at any stage to export an image of the puzzle
Delete puzzle - tap this to remove the puzzle from your library
Completed menu:
Restart puzzle - tap this to reset the puzzle. All the puzzle pieces will be regenerated making it different from the previous puzzle based on this photo that you solved
View details - tap this you view a detailed analysis of your progress for this puzzle
Export puzzle - tap this at any stage to export an image of the puzzle
Delete puzzle - tap this to remove the puzzle from your library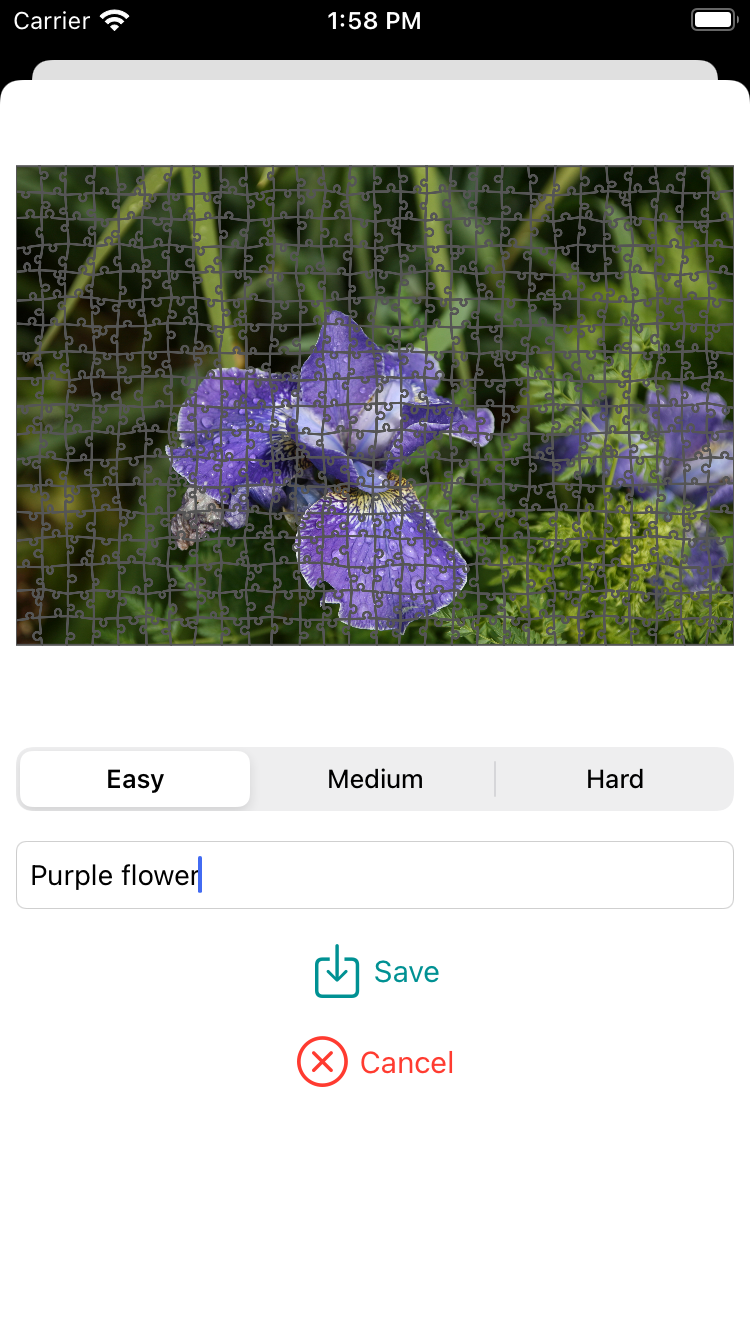 Creating a new puzzle is easy!
Just follow this simple process:
Choose the photo you want to base the puzzle on. Note the photo you choose will be copied into the DigiSaw puzzle library. Large high resolution images may be scaled down to make them more usable in the app
Select the difficulty level of the puzzle you want to create. There are three difficulty levels Easy (approx. 500 peices), Medium (approx. 1000 peices) and 1500 (approx. 1500 peices)
Tap the 'Create' button to generate the pieces
If you are happy with the result simply tap 'Save' to store this puzzle in your puzzle library
If you have chosen to store your puzzles in iCloud and have more than one device your new puzzle will be automatically fetched by your second device when you next use the app on it.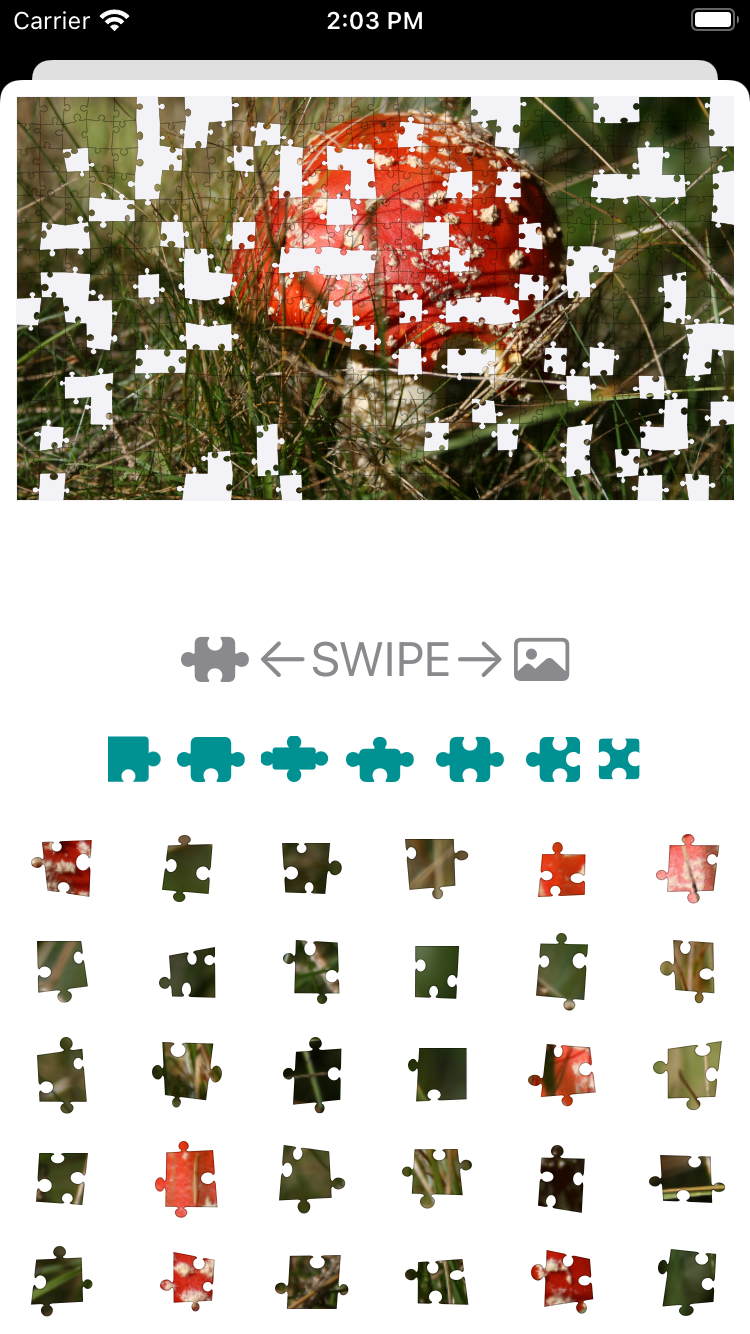 DigiSaw Puzzles has a number of features that make solving puzzles on your iPhone or iPad much easier.
Borrowing from the techniques that we use when solving jigsaws the app allows you to group pieces in various ways:
Show only the corner pieces
Show only the edge pieces
Show only pieces that have 4 tabs
Show only pieces that have 3 tabs
Show only pieces that have 2 tabs
Show only pieces that have 1 tab, we call this an ugly piece!
Show only pieces that have no tabs
You can re-order the pieces by simply tapping and holding the piece you want to move and then dragging it to a new location
You can also quickly view the complete photo by swiping over the arrows. Swiping the opposite way shows the puzzle again.
To place a piece simply tap the piece and then tap the where you think it should go in thge puzzle.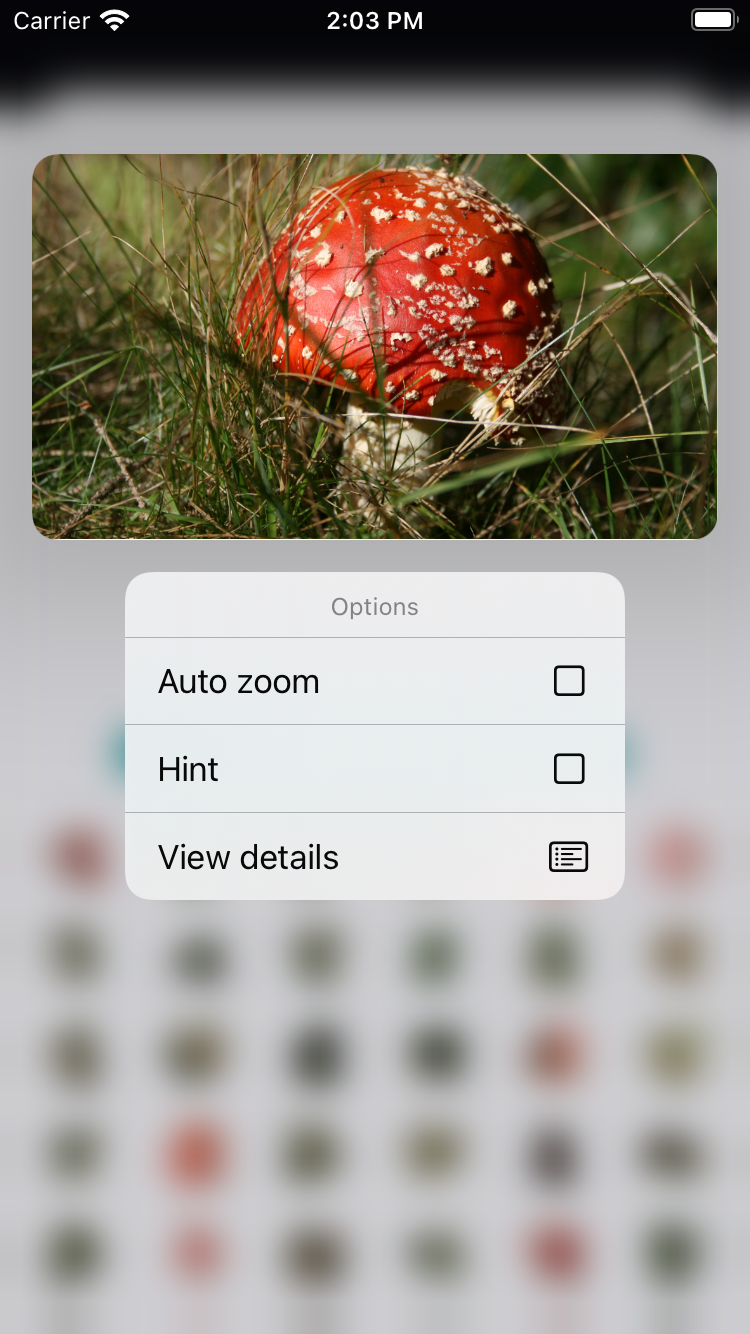 Tap and hold the puzzle image to view an action menu that you might find helpful if you are struggling with a puzzle.
The action menu allows you to:
Turn on/off autozoom. Autozoom automatically scales the puzzle so that size of a piece in the puzzle frame is about the same size as the piece in the piece collection.
Turn on/off hint mode. Hint mode automatically posistions the puzzle frame so that the piece you have selected is located somewhere in the frame
View a detailed analysis of the puzzle
You can also zoom in for a closer look at the puzzle or photo at anytime using the standard 'pinch to zoom' action.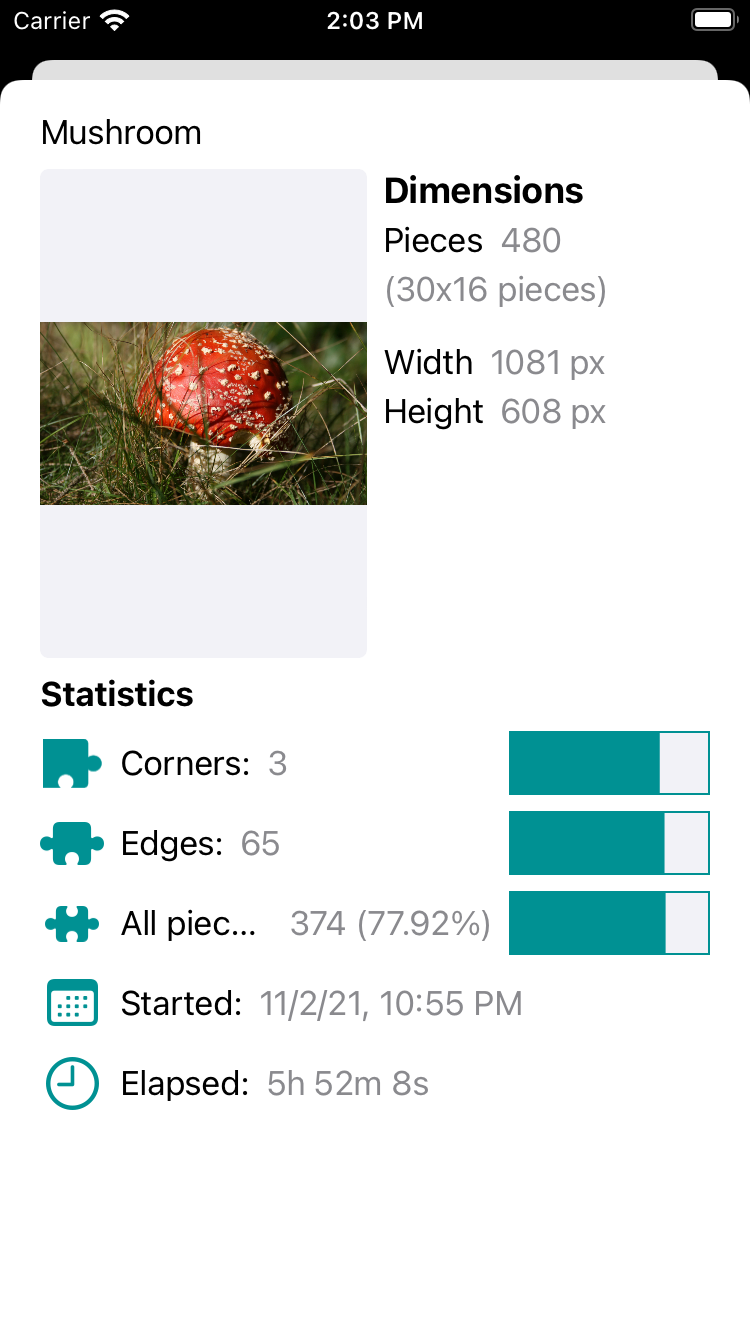 If you ever want to view a detailed analysis of the progress you are making simply select the 'View details' option on any of the action menus.
The details view gives the following information:
Puzzle dimensions in both pieces and pixels
Statistics showing the number and percentages of corners,edges and all pieces placed
When you started the puzzle
Approximately how long you have spent solving the puzzle. This is not the same as difference between now and when you started the puzzle but is instead measured as you interact with the puzzle
Usage tips:
When working on a puzzle it is best to occasionally navigate back to the puzzle library as this ensures that all the progress you have made is stored safely.
Version 1.0 now available in the App Store!
Today's New Idea is a "not for profit" business which means all proceeds from the sale of this app go toward the development of other apps we hope users will find educational or beneficial.
Concerned about privacy? Please read our privacy policy for the app.